Kinesiology is the scientific study of human or non-human body movement. Kinesiology addresses physiological, biomechanical, and psychological dynamic principles and mechanisms of movement. Applications of kinesiology to human health include biomechanics and orthopedics; strength and conditioning; sport psychology; motor control; skill acquisition and motor learning; methods of rehabilitation, such as physical and occupational therapy; and sport and exercise physiology. Studies of human and animal motion include measures from motion tracking systems, electrophysiology of muscle and brain activity, various methods for monitoring physiological function, and other behavioral and cognitive research techniques. The word comes from the Greek κῑ́νησῐς kī́nēsis, 'movement', and -λογία -logía, 'study'
Dr. Tyler H. Grewal BSc Kin, DC; a graduate of Simon Fraser University with a bachelors of science degree in kinesiology where he was a member of the schools field lacrosse team as well as a graduate of the University of Western States with a doctorate in chiropractic where he was a member of the schools ice hockey team. Dr. Tyler has an extensive background in playing both hockey and lacrosse, as a member of the Port Coquitlam Saints Jr. A lacrosse team he sustained several injuries, this is where he first had experience with chiropractic care. After noticing a significant improvement in his health and well being he knew he wanted to provide services to help others like him.
Dr. Tyler has experience working with a wide range of patients and ages, from infants to the elderly, pregnant woman, athletes, those injured on the job as well as those injured in motor vehicle accidents. Dr. Tyler's emphasis is not only to restore the health of his patients but to also prevent such injuries from occurring while promoting optimal health and wellness.
Conditions commonly seen but not limited to are:
Head: Headaches/migraines, neck pain, whiplash, jaw pain, earaches, ringing in the ear and balance and coordination issues.
Upper body: Shoulder, elbow and wrist injuries, carpal tunnel, mid back pain, scoliosis, breathing difficulties, heartburn, and indigestion.
Lower body: Sciatica, low back pain, knee, hip and ankle injuries, plantar fasciitis, digestive issues, stomach cramps, menstrual irregularities, disc bulges/herniations.
Dr. Tyler employs manual adjusting to the spine as well as the extremities to achieve the desired results. He also performs pin and stretch as well as instrument-assisted soft tissue massage to relax and break up scar tissue formed after injuries.
Nicolas holds a Bachelor's degree in Exercise Science from Concordia University with a specialization in Clinical Exercise Physiology, as well as a Master's in Kinesiology from the University of Montreal. His work as a personal trainer since 2010, and his academic internships in rehabilitation hospitals, clinics and cardiac rehabilitation programs have allowed him to gain experience with a variety of different diseases and conditions including stroke, cardiac rehab, diabetes, cholesterol, hypertension, cancer, tromatic brain injury, COPD, Parkinsons and many more. During his professional Master's degree, he furthered his studies on a subject of high interest to him: cardiac rehabilitation.
Nicolas is an accredited member of the Federation of Kinesiologists of Quebec (FKQ) and must maintain a valid CPR and AED certification by the Heart and Stroke Foundation along with 30 credits of continued education every two years. Passionate about his profession, he pursues continued education certifications in order to learn new skills and improve existing ones.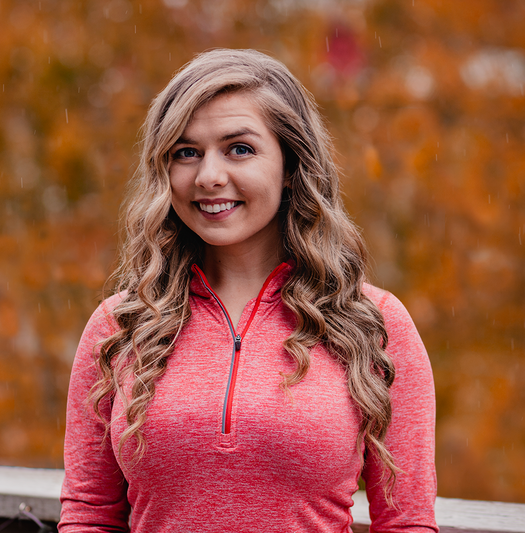 Megan Phillips is a Registered Kinesiologist and Clinical Exercise Physiologist at Remedy Wellness Centre in Victoria. Graduating as the silver medalist in her class of her Bachelor of Science in Biochemistry and Exercise Science, Megan has a well-developed passion for the health and wellness of the greater community. Working in the industry since 2013, Megan has dedicated her career as an exercise professional to delivering the idea of "Exercise as Medicine," using exercise prescription and program design to help manage and/or prevent chronic conditions such as heart disease, diabetes, osteoarthritis, and musculoskeletal injury – to name a mere few.
Megan believes in the importance of regular exercise as a clinical tool, but also as a key ingredient to living a vibrant and fulfilling life. It is Megan's mandate to ensure that her clients feel empowered and supported as they work toward their individualized goals – and that they always leave feeling better than before they came in!
On her own time, Megan enjoys travelling and experiencing new places – the culture, the food, and the coffee! One of her greatest personal fitness achievements was completing the Vancouver BMO Marathon in May 2019. Megan is passionate about life-long learning, and is currently completing a Level 1 Nutrition Coaching Certification, and plans to pursue a Medical Degree in the future.
Alfred Ball is a Burnaby Kinesiologist who has been helping people move with more strength, confidence and ease for over 20 years.
As a human movement specialist, Alfred's strengths are working with clients with chronic health conditions and musculoskeletal injuries. He was one of the first four Practicing Kinesiologists in British Columbia to be certified in Stretch to Win's Fascial Stretch Therapy™ in 2007 and one of a few Kinesiologists to complete the Diploma in Rehabilitation Management from Simon Fraser University in 2008.
He's contributed to a Global News article about 8 No-Equipment Exercises You're Probably Doing Wrong by Arti Patel and continues to speak about health, fitness and rehabilitation at wellness shows, RBC Royal Bank and the Running Room.
2013 Neurokinetic Therapy 
2010 Soft-Tissue Release – Hands on Training Workshop
2004 British Columbia Association of Kinesiologists – Practicing Kinesiologist – Board of Directors – Co-Chair of Continuing Education 2006 – 2008
2000 British Columbia Recreation and Parks Association – Personal Trainer, Group Fitness, Supervisor of Fitness Leaders
2000 National Strength and Conditioning Association – Certified Strength and Conditioning Specialist
2004 STOTT® Pilates – Reformer and Mat Level I Pilates
2009 Stretch to Win® – Certified Flexibility Therapist Level II
2007 American Council on Exercise – Advanced Health and Fitness Certification
Jay is a Registered Kinesiologist with degree from Mcgill Univerisity. He has worked in a variety of settings, encompassing clinical, teaching, training and research. Over the years, he has learned how to help people with a variety of conditions resulting from motor vehicle accidents, such as whiplash, lower back, and shoulder pain. Jay continues to enjoy his time at working in clinic, taking great pleasure in seeing people obtain a more functional and active lifestyle.
Jay completed his bachelors of Kinesiology from Mcgill University. He is a Practicing Member under the British Columbia Association of Kinesiologist (BACK), and a Certified personal trainer from CanFitPro.
Graduate from Mcgill University
Registered Kinesiologist (BCAK)
CanFitPro – Certified Personal Trainer
CPR/AED Level C
evergreenclinic.ca
Ashley's career in the health industry started when she attended Okanagan Valley College of Massage Therapy (OVCMT) and achieved her Wellness Practitioner Certification. This service allowed her to provide relaxation, hot stone and aromatherapy massage. In 2010, she completed additional online education and became a Certified Personal Trainer and Fitness Instructor. This path has provided her with optimal and outstanding experience where she worked with healthy individuals, athletes, post surgery, disabled, chronic conditions, or aging. Her experience opened the doors to then pursue an education in Kinesiology where she can further work with individuals in the rehab setting to further increase her clients quality of life. Ashley gained substantial experience in her placement as a Student Athletic Trainer for UBCO Athletics while being mentored by Athletic Therapists. Ashley likes to use pain management modalities in her rehabilitation in complimentary to a training program.
Outside of work, you can find Ashley out on the cliffs rock climbing, on the trails mountain biking, in the alpine backpacking, or on the slopes snowboarding.