Meditation is a practice where an individual uses a technique – such as mindfulness, or focusing the mind on a particular object, thought, or activity – to train attention and awareness, and achieve a mentally clear and emotionally calm and stable state. Scholars have found meditation elusive to define, as practices vary both between traditions and within them. Meditation is practiced in numerous religious traditions. The earliest records of meditation are found in the Vedas, and meditation exerts a salient role in the contemplative repertoire of Hinduism and Buddhism. Since the 19th century, Asian meditative techniques have spread to other cultures where they have also found application in non-spiritual contexts, such as business and health. Meditation may significantly reduce stress, anxiety, depression, and pain, and enhance peace, perception, self-concept, and well-being. Meditation is under research to substantiate its health benefits and other effects
His Holiness Drikung Kyabgon Chetsang, the 37th throne holder of the Drikung Kagyu Lineage and 7th reincarnation of the Chetsang Rinpoche is a manifestation of Chenrezig (Avalokiteshvara).
Drikung Kyabgon Chetsang
Vancouver, BC
garchencanada.com
His Holiness Drikung Kyabgon Chetsang, the 37th throne holder of the Drikung Kagyu Lineage and 7th reincarnation of the Chetsang Rinpoche is a manifestation of Chenrezig (Avalokiteshvara).
His Holiness Drikung Kyabgon Chetsang, Konchog Tenzin Kunsang Thrinle Lhundrup, was born on the 4th day of the 6th Tibetan month of the Fire-Dog-Year 1946 into the aristocratic family of Tsarong in Lhasa. This auspicious day marks the anniversary of the Buddhas first turning of the Wheel of Dharma. Many prodigious signs and visions accompanied his birth. His grandfather, Dasang Damdul Tsarong (1888-1959), has been the favorite of the 13th Dalai Lama (1876-1933), Commander General of the Tibetan army and one of the most influential political figures in the early 20th century in Tibet. Chetsangs father, Dundul Namgyal Tsarong (b. 1920), held a high office in the Tibetan Government and he was still active in important positions for the Exile Government in Dharamsala after the escape of the Dalai Lama and the cabinet ministers. His mother, Yangchen Dolkar, is from the noble house of Ragashar, which descended from the ancient royal dynasty.
Few years after the passing of the previous Drikung Kyabgon, Shiwe Lodro (1886-1943), two parties began to look for his reincarnation throughout Tibet. Based on a vision of the Drikung regent Tritsab Gyabra Rinpoche (1924-1979) at the oracular lake Lhamo Latso and on many additional divinatory signs, in 1950 the son of the Tsarong family was recognized as the reincarnation of the Hi Holiness Drikung Kyabgon Chetsang. The boy subsequently passed numerous tests, such as identifying religious items and ritual objects of his former incarnations. His incarnation was further confirmed by divinations performed by Taktra Rinpoche (the Regent of Tibet), H.H. the 16th Karmapa Rangjung Rigpe Dorje, and H.H. Taklung Matrul.
In the fall of 1950 the formal enthronement as Drikung Kyabgon Chetsang took place at Drikung Thil, the main monastery of the Drikung Kagyu order. Immediately thereafter the first Chinese invasion of Tibet took place. Rinpoche was allowed to travel to Kalimpong in Northern India with his family, in order to stay in a safe place. His older brother and his two sisters were attending boarding-schools in Darjeeling. After some months Rinpoche was met by a delegation from the Drikung monastery and brought back to Tibet.
According to ancient tradition, the Drikung Kyabgon Chetsang resided in turns in one of the four main monasteries: In the spring in Drikung Tse, during the summer in Yangrigar, in autumn in Drikung Thil, and during the winter in Drikung Dzong, which also served as the administrative center of Drikung. His spiritual instructors (yongzin), Tritsab Gyabra Rinpoche and Ayang Thubten Rinpoche (1899-1966), were responsible for his education. His curriculum included reading, writing, memorizing, astrology, and grammar. From his yongzin and from Bhalok Thupten Chodrak Rinpoche, Lho Bongtrul Rinpoche, and Nyidzong Tripa he received the basic empowerments, transmissions, and teachings of the Kagyu tradition and the Drikung Kagyu tradition in particular.
At the age of eleven, Drikung Kyabgon Chetsang gave his first public teaching and transmission, a long-life empowerment, during the 1956 Monkey Year ceremonies of the Great Drikung Phowa. Subsequently he began his philosophical studies at the Nyima Changra monastic college of Drikung. Although he was four years younger he studied together with the second Drikung lineage holder, the Drikung Kyabgon Chungtsang. His instructor was Bopa Tulku Dongag Tenpa (1907-1959), introducing him to the philosophy of Madhyamaka. He first studied basic texts, like The 37 Practices of a Bodhisattva by Ngulchu Thogme Zangpo and Introduction to the Bodhisattva's Way of Life (Bodhichary?vat?ra) by Sh?ntideva.
Soon thereafter Tibet underwent a great upheaval. In the wake of the Tibetan uprising of 1959, as many Tibetans fled the country, among them the Dalai Lama, the cabinet ministers and a host of spiritual dignitaries, several attempts were launched to bring the Drikung Kaybgon Chetsang and the Drikung Kyabgon Chungtsang out of Tibet into safety. These attempts failed because of the inexorable resistance of the monastery manager. His Holiness Drikung Kaybgon Chetsang's family had already fled to India in 1956.
The monks in the Drikung monastery were put under house arrest, and the Drikung Kaybgon Chetsang had to endure with them for months Communist indoctrinations. After some month Tritsab Gyabra, who had left the monastery some years before, took the Drikung Kaybgon Chetsang to live with him in Lhasa under rather dismal conditions. In 1960, Drikung Kyabgon Chetsang was admitted into an elementary school in Lhasa. In very short time he mastered the subject matters of several classes, being able to finish the six years of education in only three years. Thereafter he was admitted to the Jerag Lingka middle school. The subjects there included Chinese, natural sciences, history, and biology. The Drikung Kyabgon Chetsan excelled in his studies, especially in Chinese. He also became a keen athlete and a passionate and brilliant soccer player.
When the Red Guards infiltrated the schools at the onset of the Cultural Revolution in 1966, the Drikung Kaybgon Chetsang found himself caught up in the midst of the factional fighting of two opposing groups of Red Guards. Classes and business came to a halt. Many aristocrats and Rinpoches had to undergo brutal peoples tribunals known as struggle sessions. The Drikung Kyabgon Chetsang could no longer stay with Tritsab Gyabra, who had fallen from grace. He lived at the school, where he cooked for the few remaining schoolmates and studied the books he found in the schools library. Lhasa sank into chaos. In this atmosphere of anarchy the Drikung Kyabgon Chetsang several times was saved by a fraction from certain death.
In 1969, he was assigned to a commune in the countryside, where he had to carry out the hardest physical labor. A partly decayed verminous shack on top of a sheep pen was his shelter. He did not own more than a pot and a cup and some slats to sleep on. An uncle, who came to visit him one day, struggled against his tears, stunned that his nephew was living in such squalor. But the Krikung Kyabgon Chetsang always reacted with great equanimity to all the many upheavals in his live. When the uncle became aware of the serene calmness pervading every aspect of the Drikung Kyabgon Chetsangs being, he compared him with Milarepa, who lived in comfortless caves and outwardly austere, but inwardly excessively rich spiritual life.
In the spring and in summer the Drikung Kyabgon Chetsang drudged on the fields of the work unit. In autumn he had to climb high mountains to cut firewood for the commune and carry home heavy loads. In the winter he had to shovel out the sewage from the cesspits in Lhasa and carry it to the farm. Despite the strenuous labor, the Drikung Kyabgon Chetsang helped others, whenever he could. Nobody knew that he was the the Drikung Kyabgon Chetsang, but his extraordinary deeds amazed many.
Due to his class background as aristocrat and high incarnate lama there was no prospect for the Drikung Kyabgon Chetsang in Communist occupied Tibet. After meticulous planning, he finally found a means of escape in 1975. This was at a time when China had established a tight system of spies and informers all over Tibet and the military had a close grip of control, so that only few succeeded to take flight. He set out alone and without help to cross the border of Tibet into Nepal across high passes and glaciers. The Drikung Kyabgon Chetsang accomplished what was thought to be impossible. Unscathed he reached Nepal and eventually the residence of the Dalai Lama at Dharamsala.
His Holiness the Drikung Kyabgon Chetsang conceded to the appeals of the Drikung lamas in exile and so he was again symbolically enthroned as the the Drikung Kyabgon Chetsang during a ceremony with the Dalai Lama. By this act he expressed the promise to take responsibility for the lineage in the future. Initially though, he traveled to the USA, where his parents had in the meantime emigrated to. There he learned English, while earning his living as a part-time at a McDonald's and other restaurants.
During the third year of his stay he received a very rare ancient Tibetan text uncovered in Nepal dealing with the history of the throne holders of the Drikung Order and written by his former incarnation, the 4th Chetsang Peme Gyaltsen (1770-1826). He started analyzing this work and studying the history of Tibet, of the Drikung Kagyu, and of his former incarnations. Shortly thereafter he returned to India in 1978, to take on the lead of the Drikung Kagyu Lineage as its throne holder.
For many years in occupied Tibet and in the USA, the Drikung Kyabgon Chetsang had outwardly led the life of a layman. Nonetheless he had always strictly kept his monks vows. Now he resumed his monastic lifestyle once again and took up residence at Phyang Monastery in Ladakh. Instantly he entered a traditional three year retreat at Lamayuru Monastery under the guidance of the stern meditation master Kyunga Sodpa Gyatso (1911-1980).
The Drikung Kyabgon Chetsang studied with numerous highly accomplished lamas and Rinpoches of different traditions and received from them teachings and initiations. He regards Dilgo Khyentse Rinpoche (1910-1991) as one of his most important teachers. He received from him the essential teachings of the Eight Practice Lineages of Tibetan Buddhism (Dam Ngag Dzo), the highest Dzogchen teachings (Nyingtig Yashi), as well as the collected writings of Jamgon Kongtrul (Gyachen Kadzo) and the treasury of the oral Kagyu transmissions (Kagyu Ngag Dzo). In addition he received precious teachings and empowerments from H.H. the Dalai Lama (Chakrasamvara, Kalachakra, and Yamantaka), from H.H. the 16th Karmapa (Six Yogas of N?ropa and Milarepa), from H.H. Taklung Shabdrung Rinpoche (transmission of the Taklung Kagyu teachings) and from H.H. Taklung Tsetrul the Northern Treasures. He studied Buddhist philosophy under Khenpo Noryang in the Drukpa Kagyu monastery Sangnag Choling in Bhutan, who gave him teachings on the Bodhicharyavatara by Shantideva, the Madhyamakavatara by Chandrakarti and on the Uttara Tantra. Khenpo Noryang also transmitted to him teachings of the general Kagyu tradition and the particular teachings of the Drukpa Kagyu on Mahamudra. Moreover Chetsang Rinpoche received important Drikung Kagyu empowerments and teachings on Maa?mudr? from H.E. Garchen Rinpoche and Drubwang Konchog Norbu.
In 1985, the Drikung Kyabgon Chetsang received full monk's ordination from His Holiness the Dalai Lama, during the Kalachakra initiation in Bodhgaya. He mastered all challenges with remarkable ease. Since 1987 the Drikung Kyabgon Chetsang began to give teachings in many countries throughout the world. At the same time he started to rebuild the weakened Drikung Lineage with great energy. In Dehra Dun, India, he established a monastery and an educational center, attracting many monks from Tibet and Buddhist practitioners from many countries: the Drikung Kagyu Institute. In the beginning it consisted of the monastery Jangchubling and the retreat center and nunnery Samtenling. The Drikung Kagyu Institute is an education center, which emphasizes both the traditional monastic education, as well as present-day training to meet the needs of these times. Special consideration is also placed on discipline, meditation practice and the specialties of the Drikung Kagyu teachings. In 2003 the Drikung Kyabgon Chetsang established near his monastery a magnificent edifice: the Songtsen Library, a center for Tibetan and Himalayan studies. A building epitomizing in content, function and form the essence of his vision as a treasury and think tank for the cultural and spiritual identity of the peoples of the Himalayan region and of the Drikung Lineage in particular. It contains rare texts about all subjects of the Himalayan region, works on Tibetan culture, tradition and geography, and of course the Buddhist texts of all schools. It houses an important collection about the famous Dunhuang manuscripts unearthed along the Silk Road. There, an unimaginable wealth of texts in various languages dating from the 4th to the 11th centuries was discovered. The Tibetan corpus alone includes thousands of manuscripts of all kinds, including the earliest Tibetan medical drawing known at present. Thus these ancient texts provide the researcher with a vast array of source material on the earliest period of Tibet, which the Krikung Kyabgon Chetsang would like to make accessible in its entirety, as his scope encompasses the preservation of Tibetan culture and religion.
In 2005 close to the Songtsen Library, Drikung Kyabgon built a large College for Higher Buddhist Studies, the Kagyu College. With its inauguration the new Drikung Mandala in Dehra Dun has been completed.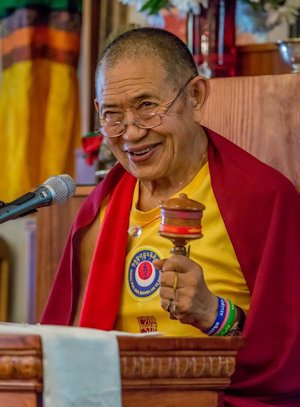 His Eminence Garchen Rinpoche, Spiritual Founder of Gar Drolma Buddhist Center
Garchen Rinpoche
Vancouver, BC

garchencanada.com
Garchen Rinpoche is a Drikung Kagyu lama who is widely recognized to have attained profound insight and realization. Rinpoche was born in 1936 in Nangchen, Kham in eastern Tibet. The King of Nangchen personally took responsibility for searching for the reincarnation of the 7th Gar Tinley Yonkyab. Rinpoche was recognized and enthroned by His Holiness the late Drikung Kyabgon Shiwei Lodoe. At the age of seven Rinpoche was brought to Lho Miyalgon, where he was offered ceremonial clothes and other items. He pointed to a painting of the Drikung lineage's founder, Jigten Sumgon, and proved his authenticity as the reincarnation by saying, "He is my Guru." This m ade people around him confident that he was the true reincarnation. From that time until the age of 22 Rinpoche lived at and administered this monastery.
During this period, he was taught by his former disciple, Chime Dorje, who gave him many empowerments, transmissions and teachings. When Garchen Rinpoche was 13, Chime Dorje started giving him the Mahamudra teachings. Then in the Lho Lungkar Gon monastery, Tulku Thubten Nyingba Rinpoche gave him all the Drikung Kagyu empowerments and teachings. After that, he started the Ngondro practice, and studied the Six Yogas of Naropa.
At the age of 22, after completing a two and a half year retreat, he was imprisoned for 20 years during the political turmoil of China's Cultural Revolution. While in the labor camp, he received meditation instruction from his root lama, the Nyingma master Khenpo Munsel. Exhibiting enormous perseverance, Garchen Rinpoche secretly practiced teachings for twenty years. Khenpo Munsel was very pleased and reportedly said, "He is a very special bodhisattva incarnation. Of this there is no doubt." While still in prison Garchen Rinpoche attained realization of the lama's wisdom mind.
Since his release from prison in 1979, Garchen Rinpoche has made great effort to rebuild the Drikung Kagyu monasteries and to reestablish the Buddhist teachings in eastern Tibet. At present, Garchen Rinpoche is involved in restoring Gar Monastery and establishing a monastic college there, as well as two boarding schools for local Tibetan children.
Garchen Rinpoche is the founder and spiritual director of the Garchen Buddhist Institute in Chino Valley, Arizona, the Drikung Mahayana Center in North Potomac, Maryland and Gar Drolma Choling in Dayton, Ohio. Internationally he has founded centers in Germany and Malaysia. Because of his vast realization Garchen Rinpoche gathers students around him wherever he travels. Yet, he remains steadfast in humility, loving kindness and pure vision, thinking only of how to benefit others. He is an extraordinary being in this age of degeneration and strife. Truly, compassion and wisdom pour forth from this precious teacher like water from a mountain stream.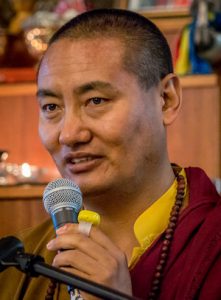 Khenpo Samdup Rinpoche, Spiritual Director
Khenpo Samdup Rinpoche
Vancouver, BC
Khenpo Samdup Rinpoche, Spiritual Director
Khenpo Samdup Rinpoche was born in Tibet and is a long time student of His Eminence Garchen Rinpoche. He studied the philosophy of the four schools of Tibetian Buddhism under numerous khenpos, such as Khenpo Munsel and Khenpo Jigme Phunsok. He taught for five years at Kagyu College in India founded by His Holiness Drikung Kabgyon Chetsang, from whom he received the vast teachings and transmissions of the Drikung Kagyu lineage. He has written a commentary on Jigten Sumgon's Gong Chik – one of the significant philosophical texts of the Kagyu Lineage. He is currently the Dharma teacher at Gar Drolma Choling in Dayton Ohio, USA.
"I was born in Kham, in the Nangchen region of Eastern Tibet. When I was seven years old I received the vows of Refuge from Garchen Rinpoche, and at the age of twelve I became ordained as a monk. I learned how to perform lama dance and pujas, and to play various musical instruments and so forth. For three years I traveled every winter with Rinpoche making the rounds to over 15 or so different towns to hold great accomplishment practices, or drubchens. During the summers we would stay in retreat at the monastery in Gargon. Not long after that I had the great fortune of traveling with my kind root lama, Garchen Rinpoche to Amdo, where I met another extraordinary and highly realized lama, the Revered Dzogchen master Khenpo Munsel. From this great master I was able to receive direct pointing out instructions on the nature of mind. From these experiences I found that my mind had been deeply transformed.
Later I heard about the great qualities of the master Khenpo Jigme Puntsok, and I gave rise to a strong longing to meet him. So before long I set out on a challenging journey alone to Khenpo Jigme Puntsokís monastery in Amdo, hoping I would finally be able to devote myself to study, contemplation, and meditation. It was a far distance away and at that time in Tibet the condition of the roads was very bad, so there were very few people traveling that way. It ended up taking me over a month to get there. When I arrived I found that I was much younger than most of the monks and I had great difficulty understanding and communicating because my dialect was so different. There was practically nobody there from my region at that time so I was quite alone and without any friends. There are plenty of amusing stories I could tell from those times, but I wonít get into those here.
I was however able to meet with Khenpo Jigme Puntsok and I received many pith instructions, empowerments and teachings. I also was able to receive teachings on almost all of the Twelve Great Scriptures from his main student Khenpo Tsultrim Lodro. I stayed at Khenpo Jigme Puntsokís for more than four years.
Prior to my experience with Khenpo Munsel I had faith and devotion, but I was lacking understanding. And in order to grasp the profound meaning of the practices based on the pith instructions it is important to develop certainty with respect to the meaning of the teachings on The Middle Way. Now I knew that my practice of the Dharma had been based on blind faith, so from this point on I became especially interested in the study of Buddhist philosophy, and particularly the topics of Buddhist logic, reasoning, and the teachings of The Middle Way. I came to understand that through study and contemplation there arises a faith that is based on reason. The main objective of Buddhism is to reach the state of liberation and complete omniscience, and the path that accomplishes that objective is the conduct of love and compassion, and bodhicitta, together with the view of emptiness and karmic interdependence. I felt determined to apply myself to the practice of study, contemplation, and meditation.
garchencanada.com
Roshi Taigen Henderson
Toronto
Roshi Taigen Henderson was born in Toronto in 1949 and grew up in Pakistan, Sri Lanka and Toronto. 
Roshi's childhood encounter with Buddhism in Sri Lanka left a deep impression on him. In 1970, he attended a workshop on Zen at the Rochester Zen Center with Roshi Philip Kapleau. Shortly thereafter he began to practice at the Toronto Zen Centre,which was then an affiliate of the Rochester Zen Center.
The Toronto Zen Centre became independent in 1986 and in 1996 came under the direction of Roshi Sunyana Graef, the abbot of the Vermont Zen Center and a Dharma Heir of Roshi Kapleau. Roshi Henderson became a student of Roshi Sunyana Graef and later her disciple. He was ordained by her as a priest in 2004 and sanctioned as Roshi Graef's first Dharma Heir in June of 2005. At that time he was installed as the abbot of the Toronto Zen Centre, where he continues to teach full time.  torontozen.org
Roshi Sunyana Graef
Toronto

torontozen.org
Roshi Sunyana Graef is the founder and teacher of the Vermont Zen Center. She began her practice of Zen Buddhism in 1969 as a disciple of Roshi Philip Kapleau. Roshi Graef was born in Boston in 1948 and grew up on Long Island, in New York. In the sixties, she studied religion and philosophy at Bard College until beginning her Zen training at the Rochester Zen Center.
Roshi Graef spent over nine years on the staff of the Rochester Zen Center. She was ordained as a priest in 1986 and sanctioned as a Dharma Heir of Roshi Kapleau a year later. With her husband, Jed, and two daughters, Kaila and Dana, she moved to Vermont in June of 1988 to establish the Zen Center in Shelburne. Roshi Graef also teaches at the Casa Zen of Costa Rica.
torontozen.org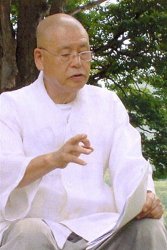 Hwasun Yangil Sunim
Toronto

awakenedmeditationcentre.com
Venerable Hwasun Yangil Sunim conveys the universal truth by letting the benevolent Buddha light out to glow in action. And his master has remarked, "Whenever he delivers the Mujung Dharma,* its power moves heaven and earth and makes the day into a glorious Tathagata trance." Sunim Yangil serves as the Zen master of the Dae Kak Sa Temple and the Awakened Meditation Centre in Toronto, Ontario and their affiliates. He teaches the practices of mindfulness and of the Korean Ganhwa Zen meditation that looks into the live word of a question or konggan (Japanese: koan) and which seeks the unfolding of the mind's innate enlightenment.The venerable master was ordained as a monk in the celibate Jogye Order that boasts of a rich Zen tradition of conveying the Buddha mind in an unpretentious, rustic and earthy way. He trained with the late Venerable Kun Wol Ha Sunim, who served as the Grand Zen Master of the Tongdo Sa Monastery and from 1994 to 2004 as the Supreme Patriarch of the Jogye Order and the other sects as well as the lay Buddhists in Korea.In 1986, Yangil Sunim settled in Canada at the request of his master to spread the seeds of Dharma in the West. He has taught Zen meditation to the students in Canada and USA as well as in England, China, India, Sri Lanka, Philippines, and his home country.
The Chinese sangha honoured the venerable master with the distinguished title of Tripitaka Master and the Sri Lankan sangha gave him the title of Honourary Supreme Patriarch.
Yangil Sunim serves concurrently as the president of the Sangha Council of Ontario Buddhist Ministry, the Buddhist Council of North America and the Maha Prajna Compassionate Society International.  awakenedmeditationcentre.com
Venerable Dr Sumanācāra
Montreal
Venerable Dr Sumanācāra was born and grew up in Chittagong. He studied and practiced Buddhism of the Theravada tradition for many years in Burma, Sri Lanka and Thailand under the guidance of several masters. He started practicing meditation after he went travelling to Burma in 2002.  In 2002, he received sāmaṇera (novice) and bhikkhu (full) ordination at Chanmyay Yeiktha meditation centre in Myanmar. He practised intensive meditation at Chanmyay Yeiktha for nearly one year, studied three years at Theravāda Buddhist Missionary University in Yangon. From 2002-2006, he attended several meditation course given by Sayadaw U Silananda, Sayadaw U Janakabhivamsa, Sayadaw U Sobhita and Sayadaw U Revata.
Venerable Sumanācāra graduated with a M.A. in Buddhist Studies from the Kelaniya University in 2007 and received a gold medal for best performance. In the following year, he went on to complete a one-year counselling training program at the Sri Lanka Foundation Institute. Over the following years, he earned a Ph.D. in Buddhist studies from the Mahidol University, with a dissertation exploring types and degrees of physical and mental pain. During this time, while working as a visiting lecturer of two Buddhist Universities, he also began attending meditation classes and exploring Thai traditional approaches to inner transformation. 
Venerable Sumanācāra took part in the international conferences in the United States, Europe, and Australia. He has also been present at several of the annual UN Vesak conferences in Thailand. He has published many articles on Buddhist philosophy and psychology in English. 
He emphasizes the practical application of the Buddha's teachings in our daily lives. Currently he teaches Buddhism, and leads meditation retreats in greater Montreal, Canada. sumanacara.com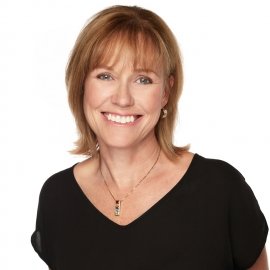 Bev Janisch
Calgary – Alberta
Bev is passionate about sharing practices, insights and wisdom that inspire people to thrive physically, emotionally, and spiritually.
Bev was introduced to meditation and mindfulness in response to her desire to increase her own personal resilience to stress. She experienced the profound impact that our minds and emotions have on our health and well-being and went on to become certified as a meditation and mindfulness teacher.
Prior to this, Bev worked for over 20 years as a masters prepared nurse in a variety of capacities. Most recently, Bev worked for Alberta Health Services as a consultant and specialist in palliative and end of life care.
Bev offers workshops, personal coaching and is an engaging speaker sharing powerful tools for personal and spiritual growth. She is an avid writer with a successful blog.
Bev released her first book: "Awakening A Woman's Soul: The Power of Meditation and Mindfulness to Transform Your Life" in January 2019.      bevjanisch.com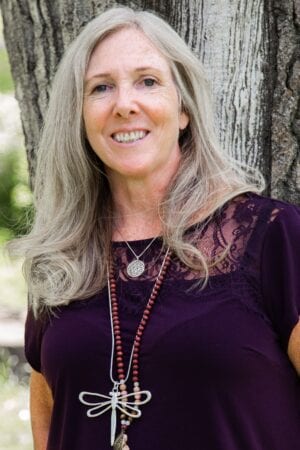 Elizabeth (Liz) Hides
Calgary – Alberta

healthy-directions.ca
Elizabeth (Liz) Hides she is  a Grief and Loss Specialist, Registered Social Worker, Certified Thanatologist and a Mindfulness and Meditation Teacher. She  live and practice in Calgary, Alberta. She came to this specialized work after having experienced many deaths, losses and difficult life transitions myself. Grief was very exhausting, confusing, and painful for her, but the one common element she encountered with each experience was 'Resilience', somehow she  made it through each moment and was able to feel joy, happiness and gratitude again. She thought she would never feel anything but pain and suffering.
Before she began to learn about and practice meditation, she believed that she could not meditate because she have a very busy mind thanks to a diagnosis of ADD in her early 30's. She learned to meditate several years ago and now she have an established daily practice. She have found meditation practice to be amazingly beneficial in her life. It quickly rid pain and lessened anxiety associated with a diagnosed chronic illness (MS). It has improved her focus and concentration, awakened her spiritually and has provided her with an overall wonderful sense of well-being. She believe if meditation can do all that for her then why can't it do the same for others. So, her  mission is to offer meditation classes to teach you how simple and easy the practice of meditation can be and how beneficial it can be to your life. Whether you prefer learning and practicing in a small guided class setting or privately 1 on 1 either way is a very useful way to develop the skill and discipline needed to gain the benefits of meditation.  healthy-directions.ca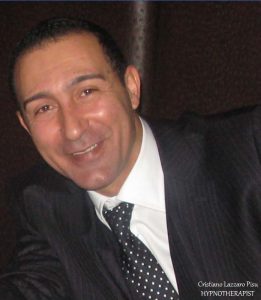 Dr Lazzaro Pisu
Vancouver,BC
Lazzaro Pisu was born and raised in Italy, Over the past years to the present, Lazzaro  has helped thousands of people from at all levels, and from a variation of work places and experienced sectors: managers, employers, students, CEO, directors, professional athletes, celebrities, and many others. Based on the success of his meditation sessions, his clients are not only from Canada but from around the world. Lazzaro is one of the most recommended Hypnotherapist and Psychotherapist in Canada.
Based how you know your mind and body, you can reprogram and correct yourself naturally. In the beginning, everything starts with a breath, than with a vision inside your mind, and gradually you wake all the senses in order to stimulate the deep sides of mind, body and Spiritual wellness.
Lazzaro developed HBMD (Hypno Behavioral Mind Direction) based on the results obtained from his clients, and base on those results he wrote the HBMD book  in order to screed his work research providing this information to help all those that are living in distress and are in search for an answer on how to balance their life. Each one of us is unique and special and we have the ability to change for the better at any stage of our life.
HBMD meditation change mind patterns – from unwanted, negative, unhelpful patterns into ones that support and uphold you emotionally and mentally.  lazzaropisu.com