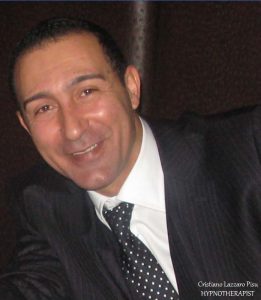 Lazzaro Pisu - Vancouver, BC
lazzaropisu.com 
Lazzaro Pisu was born and raised in Italy, and he is one of the most recommended Hypnotherapist and Psychotherapist in Canada. Over the past years to the present day Lazzaro have helped thousands of private patients, and based on the effective of his sessions he built a respectable practice and name, and his clients are not only from Canada but from around the world. Clients go to Lazzaro for issues related to Depression, Anxiety, Addictions, Trauma, Abuse, Loss of Purpose, Self Confidence, Motivation, Moodiness, Sexual Problems, Bereavement and Loss, Stroke Recovery and other personal issues. In the year 2019 Lazzaro Pisu was selected from over 4,000 major companies around the world to receive an honorable Global Award for my service in the field of Natural Therapies. From over 4,000 companies from around the globe, only 60 companies were selected by a judging panel for the service that they provide. He was also selected from "The Talks"(a scientific organization) for the psychiatrist conference, and for the 2020 "Global Wellness Summit" in Tel Aviv as a delegate, to speck about his work, just to mention a few…
Lazzaro Pisu is the CEO of  the International Healing Clinic, and also the director of the Natural Healing Clinic. He is also a trainer for the NGH guild, the oldest hypnotist guild in the world, with members in over 90 countries.
Lazzaro is collaborating with major companies that are located in Canada, USA and Europe, using his method in several projects. One of his collaborations is with CanaQuest Medical Corp from Toronto, a life science company whose research is focused on mitigation of the spread of cancerous tumors with two prestigious Canadian universities, Western University and the University of Waterloo.
Lazzaro Pisu guides his clients in a safe, compassionate and non-judgmental manner. You will feel very comfortable and happy to meet Lazzaro Pisu. He is fluent in two languages, English and Italian.
lazzaropisu.com
Angelina Landry - Nanaimo, BC
Angelina is a Registered Clinical Counsellor with a Master of Arts Degree in Counselling Psychology. She is a member of the British Columbia Association of Clinical Counsellors with Post Graduate certification in the treatment of Disordered eating and Complex post traumatic stress related to Interpersonal trauma.
Since beginning her undergraduate studies at Vancouver Island University, Angelina's work with individuals and groups in clinical and community based settings includes private behavioural health programs, formal learning environments, community non-profit organizations, and public mental health agencies.
Angelina provides Psychotherapy, Counselling, Crisis stabilization, Referral services, and Group therapy for clients from a diversity of backgrounds. Her approach to practice is informed by Psychoanalytic theory with reference to Behavioural and Humanistic traditions.
amftherapy.ca
Ashley M.Falco provides individual therapy to clients presenting with various mental health concerns, including stress, anxiety, depression, trauma, life transitions, loss and grief, self-esteem/self-confidence, and family and relational issues. I also provide help to individuals seeking personal growth and development. Her clinical experience includes conducting psychoeducational assessments with children, adolescents and university/college students, as well as providing psychotherapy to an adolescent and adult population. She have also held positions at the Centre for Addiction and Mental Health and the Hospital for Sick Children.
She is part of the Shift Collaborative Therapy team whose focus is to create a future of mental health that is collaborative. Shift offers psychotherapy services as well as workshops, webinars, and partnerships to support you, your relationships, and your community.
She is also in partnership with The Sad Collective, a non-profit organization in support of mental health. The Sad Collective strives to be a safe space for emotional expression, with the goal of encouraging others to share their experiences of struggle, rather than feeling alone and ashamed.