Yoga is a group of physical, mental, and spiritual practices or disciplines which originated in ancient India. Yoga is one of the six Āstika schools of Hindu philosophical traditions. There is a broad variety of yoga schools, practices, and goals in Hinduism, Buddhism, and Jainism. The term "Yoga" in the Western world often denotes a modern form of hatha yoga and yoga as exercise, consisting largely of the postures or asanas. The practice of yoga has been thought to date back to pre-vedic Indian traditions; possibly in the Indus valley civilization around 3000 BCE. Yoga is mentioned in the Rigveda, and also referenced in the Upanishads,. Although, yoga most likely developed as a systematic study around the 5th and 6th centuries BCE, in ancient India's ascetic and Śramaṇa movements. The chronology of earliest texts describing yoga-practices is unclear, varyingly credited to the Upanishads
Lauren Rudick
Montreal
laurenrudick.com
Internationally celebrated instructor Lauren Rudick has let her love of yoga taker her around the world! She has studied, taught and practiced yoga across 6 continents and over 40 countries. Lauren has been teaching yoga for over a decade inspiring tens of thousands to live passionately with authenticity and joy.
She has been featured in newspapers and magazines including The daily mail, Women's Health, Evoke, Get Out There, DisFunkshion, Optimyz and gives online yoga classes as well. Her outspoken honesty and commitment to truth have landed her as a guest on dozens of podcasts and radio shows From Atlanta to Australia.
Lauren's greatest achievement yet has been founding and directing Yoga Academy International, a revolutionary yoga school. Her goal in creating this institution is to raise the standard of yoga education.
She has solid roots in Iyengar based Hatha Yoga, Vinyasa and Power Yoga with continued education in Ashtanga, Bhakti, Kundalini, Tantra, Yin, and Anusara yoga.
Lauren's yoga retreats and teacher trainings have received heaps of international praise. They offer her students the opportunity to join her on exclusive yoga adventures to exotic locations. She envisions, creates and flawlessly executes these programs. With her attention to detail, travel experience and soulfulness, these experiences are magical.      laurenrudick.com
Isabella Light
Montreal
isabellalight.com
Here, through the topics of yoga, fitness (physical training) and diet, we will take care of ourselves, together, adopting a healthy lifestyle, with affordable, educational and dynamic online courses. Isabella, an experienced yoga teacher (E-RYT 500),transformed her life with Yoga and Nutrition in 2010, a drastic life change…
You'll ask him about his Hollywood story!! From dark to light..! Isabella has led several workshops and retreats on yoga and nutrition in different countries. She has traveled the world to perfect her yoga teaching, as well as her personal practice. Isabella is certified (E-RYT 500) with Yoga Alliance and has been teaching more than 15 hot yoga classes a week for the past 8 years in Quebec.
She is known for her intensive Yoga Fitness classes! Abdos, buttocks and Body Sculpt is his passion! She also teaches Yin Yang and Deep Stretch to balance her Yoga Fitness practice with more relaxed flows.
Isabella also gives teacher training as well as international yoga retreats.
She graduated as a consultant in holistic nutrition and sports nutrition with BodyMind Institute. She is currently studying naturopathy at the Quebec College of Naturopaths, and is recognized by a professional order, the ANQ, as a Naturotherapist. She works on improving your health through diet and lifestyle, as learned with her many certifications and experiences.
She has completed more than 10 Yoga Teacher certifications;
She studied 100 hours of Vinyasa Yoga in Los Angeles in 2012, 500 hours of Hatha Yoga in the Bahamas in 2013, 200 hours of Hatha Yoga at Ashtanga Yoga Montreal in 2014, 200 hours of Ashtanga Yoga in November 2015 with Darby in Montreal, 2 Ashtanga trainings in India and 1 month of Ashtanga in Bali with Prem and Radha 300 hours of Vinyasa with Bryce yoga and yoga Beyond (acro-yoga) in Thailand in 2017 and finally 100 hours of Sculpt in New York in 2019.
Hillary Faye
Toronto
hillaryfaye.com
Hillary is a mentor and trainer of heart centered alchemists, yoga and meditation teachers, energetic healers, reiki practioners and intuitive coaches. She is the creator of the Awaken Love Registered Yoga School and the is co-creator of Wellversity Non Profit and Mansion of the Heart University.
Hillary is an inspirational and down to earth spiritual teacher whose passion for healing arts overflows into all she creates.
She is co-creator of Mansion of the Heart University (MU) with her partner Sat Devbir. The Mansion of the Heart University training programs she co-teaches includes the Energetic Mastery Healer Teacher Coach Certification, Ground to Grow Your Sacred Platform Business Training, and the MU Mystery School.
Hillary is the president of the non-profit charity Wellversity. Wellveristy is a free online education platform in wellness and spirituality designed to make the journey of awakening easier for everyone. On Wellversity, Hillary gives away thousands of dollars worth of her professionally recorded transformational audios, videos, programs, and certifications.
Hillary is also the creator and lead facilitator of the Awaken Love Registered Yoga School which offers renowned international yoga teacher trainings.
As a teacher trainer and teacher of teachers, Hillary is here to help you deepen into your own Source Of Unconditional Love–S.OU.L. so, you can access all the gifts that always are, and always will be inherent within you through Breathwork, Kundalini Yoga, Reiki, Alchemy, Vinyasa Flow, Meditation and much more. Hillary loves to share what she has learned with everyone, including those new to the path as she has a gift for making complex ideas clear and relatable to your life.
Hillary knows that life can feel challenging at times, and truly believes that our greatest challenges are also our greatest gifts. It was the trauma and abuse she survived from her childhood, that inspired Hillary to seek healing at a young age. By the time Hillary was 12 years old, she had already lived in 8 states and was told by a Psychiatrist that she had already experienced more in life than most 45 years old's.
The deep suffering she experienced ended up being her greatest gift, as she moved from feeling unloved and incapable of living life to embodying the love she always desired and living a life she couldn't have imagined possible. Through years of deep inner work, she turned her trauma into transformation and now holds space for others to do the same.
For over 17 years Hillary has dedicated her life to the path of healing and has now been teaching and training heart-centered alchemists, yoga and meditation teachers, and energy healers for over 12 years.
Hillary is here to hold a space of love and compassion that will help you relax into wholeness while offering you powerful tools and practices to experience and embody your innate love and wisdom.
Hillary has been called: "A glowing pillar of strength and beauty that guides that way, the light of love-consciousness, full of hope, kind and generous".    hillaryfaye.com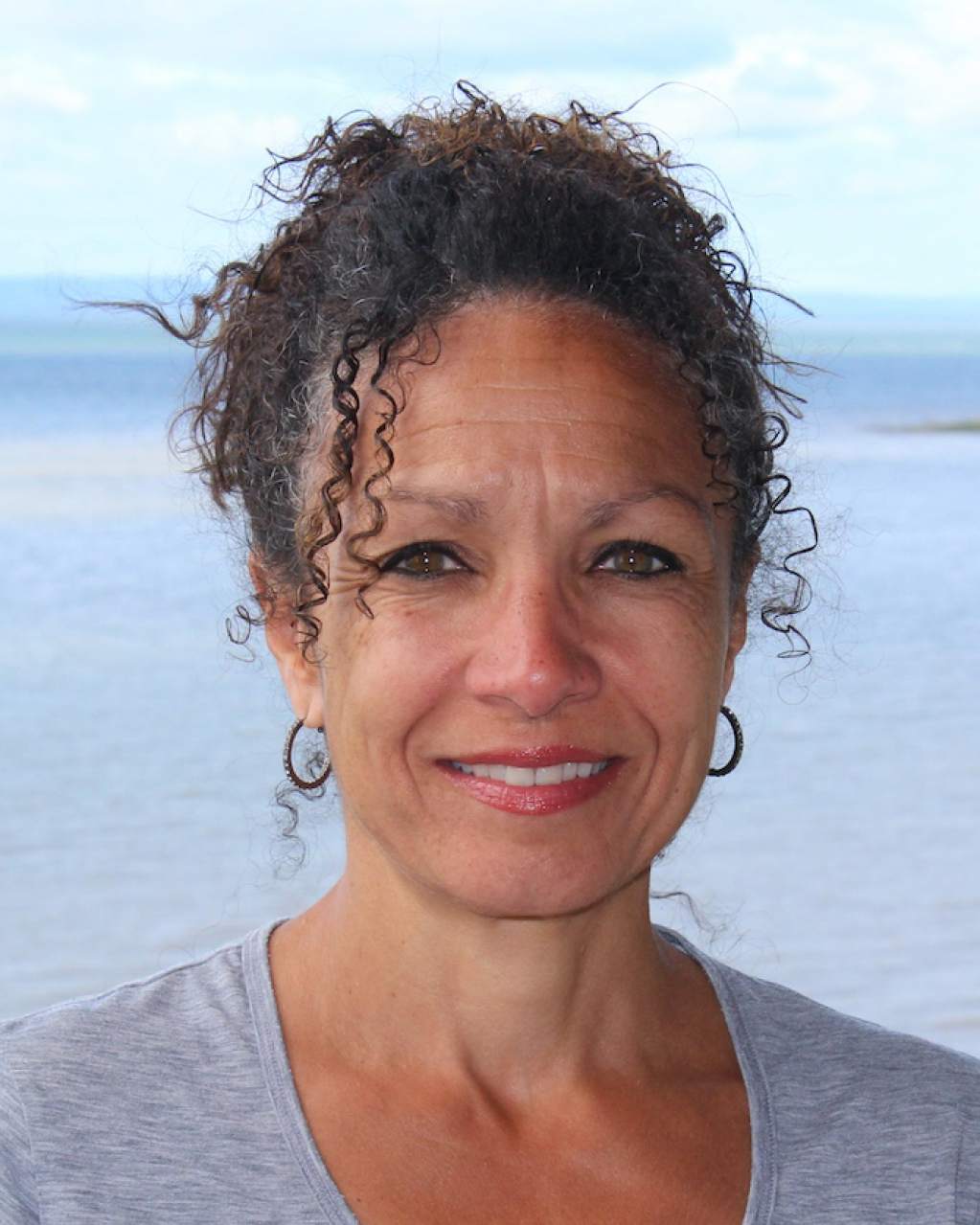 Barbara-Anne Hutchinson
Rosemère, QC, Canada
bhogayoga.com
Barbara-Anne Hutchinson holds a B.A. in psychology from McGill University and is a Registered Yoga Teacher (RYT) with Yoga Alliance, which acknowledges the completion of a yoga teacher training with an approved and active Registered Yoga School (RYS). …
Barbara-Anne Hutchinson is the founder of Bhoga Yoga. She has been teaching Alignment-based yoga since 2005. She came to yoga while building a 30 year career in the film and television industry. It was the daily grind of this lifestyle that led her on a quest for an activity that would create balance between the constant stressors so inherent in this field of work and raising a family. It was her yoga practice that convinced her that everyone could find peace, balance and health, all we had to do is to tap into the wisdom of the body.This conviction and her profound interest in the human condition is at the core of her passion for yoga as a therapy. To this end, she embarked on a journey to learn how to help the body heal with the use of yoga and body work.
Barbara-Anne holds a B.A. in psychology from McGill University and is RYT500 certified (Registered Yoga Teacher ) with Yoga Alliance.
Some of her corporate clients include; Cirque du Soleil, Hydro Québec and DLGL.
Reiki in Therapeutics: I came to Reiki as a means of deepening my sensitivity to the energy which moves naturally through the human body. It has always been my fundamental desire to accompany my clients toward health and balance. Whereas Thai Yoga Therapeutic Massage and Yoga Therapeutics offer incredible possibilities for aligning the body biomechanically and fascially (via the fascia around the muscles), Reiki enables the body to respond on a more energetic level (much like acupuncture).
Barbara-Anne Hutchinson apply Reiki in a variety of ways based on the needs and desires of the client. She often interweave Reiki with a Thai Yoga Therapeutic Massage session.  She also apply Reiki on its own, if my client has a particular issue that would be resolved more effectively with an energetic approach. Reiki is versatile and non invasive, so I can adapt it as I go."
Shelley Tomczyk
Vancouver BC
shelleytomczyk.com
Shelley Tomczyk began practicing yoga in 1997 and started teaching in 2001. A synthesis of Ashtanga Vinyasa, Iyengar and Anusara yoga, Shelley's classes build discipline and strength to enhance the integrity and the delight of practice. She shares her captivation by the teachings and stories within the yoga tradition through a fearless and curious investigation of the world, as much as the asanas, and helps students uncover and reveal their own transformational potentials in everyday life. Shelley' s trainings are Yoga Alliance Certified.
Shelley has a deep resonance with Tantric practice. She is a poet who weaves a blend of teachings drawn from the threads of her own experiences in yoga, and studentship with yogic masters/philosophers. She continues to study the extraordinary hidden amongst the ordinary, discovering beauty through many forms of art, literature, alchemy, Jungian analysis, and transmitting through myths and storytelling. Shelley has been a part of the Vancouver yoga community for twenty years and is known as a teacher's teacher. She continues to offer YTTs and retreats in Canada, India, and Europe.       shelleytomczyk.com
Cynthia Cooperstone
Toronto
cynthiacooperstone.ca
She teach in studio, private, corporate and festival settings, and direct two Ontario-based Teacher Training programs.
With two literature degrees and numerous certifications, it's obvious I'm a dedicated fan of life-long learning. In addition chasing some off-the-beaten tracks, She  continue to study yoga history, anatomy, therapeutics, meditation and philosophy with internationally recognized teachers, and completed her  Functional Range Conditioning certification to help students (and herself) maintain and improve the active range of motion and stabilizing skills required for a healthy, life-long practice.
One-on-one and private group classes are designed for personal attention and convenience. She tailor her teaching to the individual needs and goals of the participant(s), creating sequences and providing hands-on support that will help you get the most of out of your practice.  cynthiacooperstone.ca